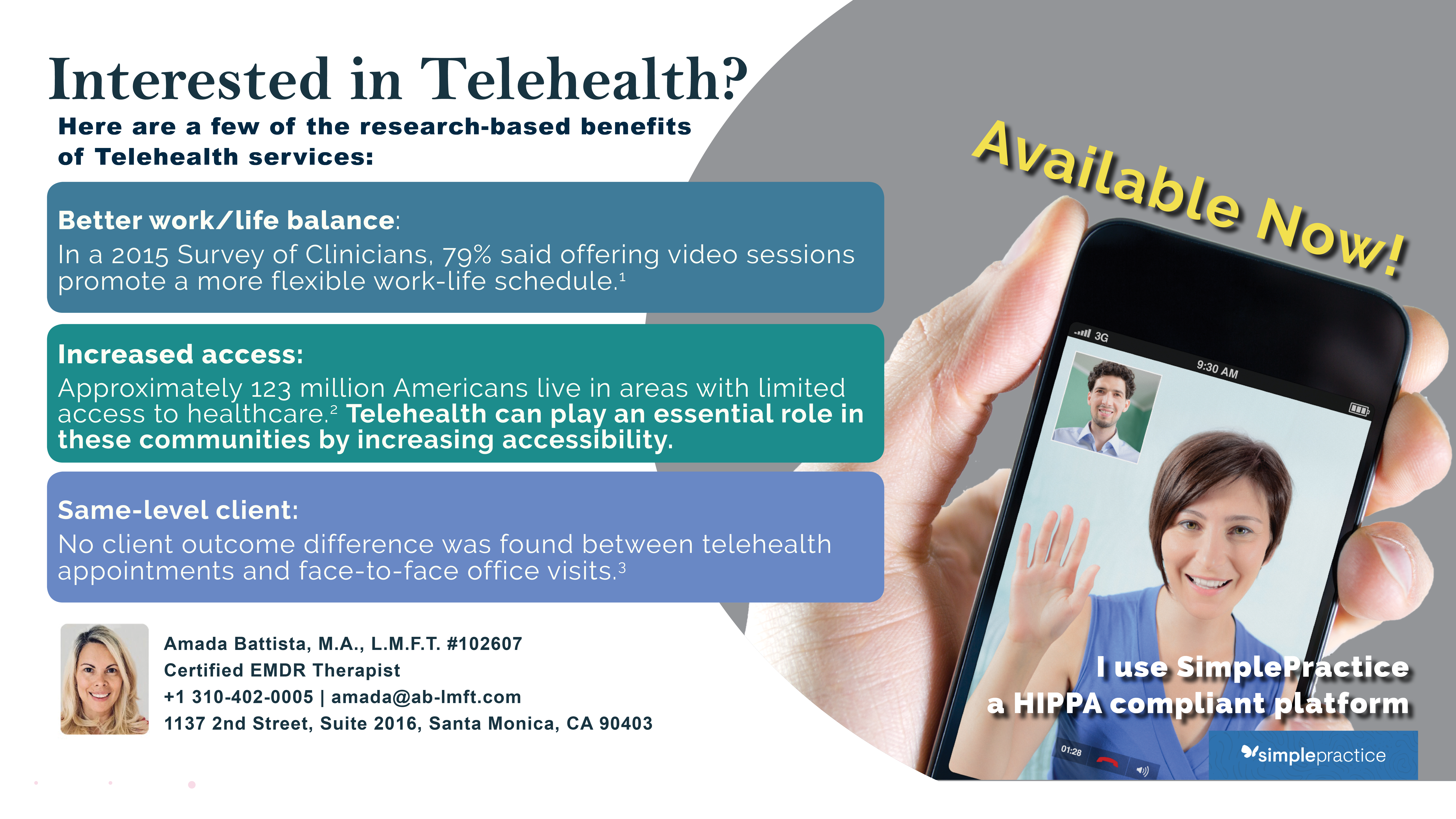 1. American Well (2015). Telehealth Index: 2015 Physician Survey. American Well Blog. Available online at http://info.americanwell.com/tele-health-index-2015-consumer-survey. 2. Bureau of Health Workforce, Health Resources and Services Administration (HRSA), U.S. Department of Health & Human Services, Designated Health Professional Shortage 3. Hilty, Ferrer, Parish, Johnston, Callahan & Yellowlees (2013). The effectiveness of telemental health: A 2013 review. Telemedicine Journal and e-Health, 19, 444–454.
Initial consultation
The initial consultation is a time for me to answer your questions about how therapy works and to see if I have the expertise to help you with your specific needs.
Please note that I use SimplePractice which is a cloud-based, award-winning practice management solution that provides the tools for health and wellness professionals to run their practice more efficiently. Your sensitive data is hosted in Tier 1 secure hosting provider specializing in helping healthcare organizations achieve and maintain HIPAA and HITRUST security requirements. If you would like to learn more please visit Simple Practice.  
*  If you prefer to call, feel free to reach me at 310-402-0005 to schedule an appointment.
Individual session
Please check your client portal for any forms needed for this appointment
Family Session
Please check your client portal for any forms needed for this appointment
Couples session
Note: Most insurance plans do not cover couples therapy, only individual and family therapy. If you are looking for Gottman therapy, please know that insurance does not cover this service. My fee for couples therapy is $250 for a 90-minute session.
Reduced Fee: Reduced fee services are available on a limited basis.
Payment: Cash, check, and all major credit cards accepted for payment.
Cancellation Policy: If you do not show up for your scheduled therapy appointment, and you have not notified us at least 24 hours in advance, you will be required to pay the full cost of the session.
Services may be covered in full or in part by your health insurance or employee benefit plan. At this time, I work with Beacon Health Options, Managed Health Network, and OptumHealth.  Please check your coverage carefully by asking the following questions:
Do I have mental health insurance benefits?
What is my deductible and has it been met?
How many sessions per year does my health insurance cover?
What is the coverage amount per therapy session?
Is approval for mental health appointments required by my primary care physician?
Does my insurance cover couples therapy?
Does my insurance cover telehealth?
As a courtesy, I will be glad to provide the appropriate document (superbill) for you to submit to any other insurance company. If your insurance is not listed above you will be responsible for my full fee.